compensation: Up to $15/hour
employment type: part-time

QR Code Link to This Post

Immediate Part Time Openings! Text to Schedule an Interview Within 24 hours!

Pay: Up to $15/hour
Location: We have openings in Pflugerville!
Hours: Sunday-Thursday starting at 8:00pm (FRIDAY and SATURDAY OFF)
10-15 hours per week


Click here to watch a job preview video!! https://www.youtube.com/watch?v=_E4FETeXxkA&feature=youtu.be

As a Service Valet, you will be responsible for nightly door to door collection of trash and recycling items within assigned apartment communities. As the face of Valet Living, you will play an integral role in delivering our brand through dedicated service and delighting residents.


To qualify for this opportunity, you must have:


Smart phone with data plan
Open bed pick-up truck to transport trash items from door to property compactor (some locations do not require a pickup truck)
Valid driver's license
Ability to lift and transport up to 50 lbs., climb stairs, and walk distances


Benefits:


Tuition Reimbursement Program
Valet Perks Discount Programs
Associate Assistance Program
Associate Referral Bonus Program
Associate Recognition Program
Personal Protective Equipment
Career Progressive Opportunities

If interested in learning more about this opportunity, please text Nick to set up an immediate interview!

District Manager: Nick Smith
Phone: 210-209-7670- please text with questions and to schedule an immediate interview! Text with your name, location, and whether or not you have an open bed pickup truck.



Click here to watch a job preview video!!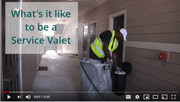 All offers of employment will be contingent on successful background check. Valet Living is an Equal Opportunity Employer.
Principals only. Recruiters, please don't contact this job poster.
do NOT contact us with unsolicited services or offers
post id: 7062121260
posted: